From Nov 7th to 10th, 2023 World Internet Conference & The Light of the Internet Expo was held in Wuzhen, Zhejiang.
This conference adheres to the principles of high-end, international, and representative guest invitations, and has invited nearly 2000 representatives from governments, international organizations, industry institutions, Chinese and foreign internet enterprises, and University Think Tanks from more than 120 countries and regions to exchange ideas on the theme of "Jointly Building a Cyberworld and Creating a Digital Future - Jointly Building a Community with a Shared Future in Cyberspace" online and offline, provide wisdom and suggestions for the construction of a community with a shared future in cyberspace.
Li Shulei, a member of the Politburo of the Communist Party of China Central Committee and Minister of Propaganda, attended the opening ceremony and delivered a keynote speech. The European and American Chamber of Commerce was invited to attend the opening ceremony of the conference and actively organized 20 online and 38 offline overseas enterprises including France, the United States, Finland, Australia, Spain, Russia, Pakistan, Malaysia, and other countries to participate in the exhibition. These exhibitors from different countries and regions not only saw China's responsibility and efforts in promoting the construction of a community with a shared future in cyberspace at the Internet Conference, but also expressed their gratitude and recognition to the European and American Chamber of Commerce for taking multiple measures to help break the international digital divide and provide a platform for dialogue and exchange between China and foreign countries.
The 58 international exhibitors participating in this exhibition come from 23 different countries on five continents. Thanks to the strong promotional organization of the European and American Chamber of Commerce and Industry, the corporate image and main products of 58 companies have been more comprehensive, intuitive, and effective exported to the outside world, increasing the industry awareness and international influence of international exhibitors. At the same time, as the exhibitors come from 23 countries around the world, it greatly helped them expand their sales in various parts of the world, including the Chinese market, and built a communication bridge for enterprises to enter the world market and expand their customer base.
This year, the summit has entered its tenth year, and the World Internet Conference has witnessed the progress made by all parties in promoting mutual consultation through dialogue and exchange, and promoting sharing through practical cooperation. It has made positive contributions to building a peaceful, secure, open, cooperative, and orderly cyberspace. Data shows that from 2012 to 2022, the scale of China's digital economy increased from 11 trillion yuan to 50.2 trillion yuan, with rapid development in internet applications, the number of netizens, and artificial intelligence. At this year's summit, the large model of artificial intelligence became a key word in the minds of participants. In the view of participants, this year is a milestone year for artificial intelligence, and generative artificial intelligence empowers thousands of industries, and future potential has begun to emerge. In this exhibition, in addition to the 38 international exhibitor groups that went to Wuzhen for on-site exhibitions, there are also 20 international exhibitor groups that joined the exhibition through online channels in a more flexible and efficient way. Therefore, whether it is an intuitive and three-dimensional offline communication platform or a fast and convenient online "cloud exhibition" platform, the World Internet Congress provides a good communication platform for international exhibition groups from 23 countries, helping exhibitors find business opportunities and expand the market, injecting strong momentum into enterprise development, and creating a strong engine for economic takeoff.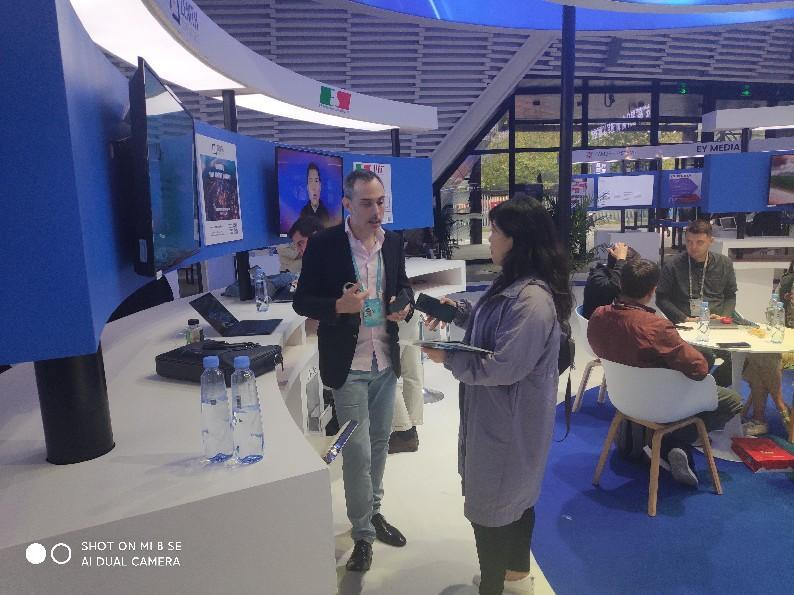 Congratulations on the successful completion of 2023 World Internet Conference & The Light of the Internet Expo! EAcham sincerely wishes both our Chinese and foreign friends can find their partners!
EAcham always aims at strengthening the contacts and exchanges between enterprises from Europe, America, China and other countries in the world and promoting the communication of cultural trade, innovation technology and investment around the world.